---
Experience the highlights and contrasts of Madagascar by exploring the dry West with its baobabs, its semi-dry tropical forest, the Tsingy de Bemaraha National park, a world heritagensite, and the humid wet landscape of the East with its tropical rainforest of Andasibe National Park: its rich and unique wildlife with different species of lemurs, chameleons, and multitude of reptiles.
DAILY PROGRAM
DAY 1, ARRIVAL IN ANATANANARIVO,
Arrival in Tana, meet and greet at the airport then transfer to your hotel. Night at ICHOTEL on B&B
DAY 2, TANA – ANTSIRABE: 169 km: 3 to 4 hours with stops
After breakfast, briefing for the tours then with a private car, 3 hour's drive southward to Antsirabe across the highland landscape with its terraced rice-fields and its spectacular eroded hills called "lavaka". Stop in Ambatolampy and visit artisanal aluminum fabric, which start from melting the old coke bins, and transform them into cooking pots. Continue to Antsirabe that we'll reach around noon. Founded by Norwegians in 1856, it is an elegant city, which really feels and looks like a European city. With its clement climate, thermal springs and wide avenues, it is one of the most attractive towns in Madagascar. Afternoon, hike in Betafo village and meet the "blacksmith" along the countryside of the area. This is also to experience the rural life of the highland tribe. Night at LES CHAMBRES DU VOYAGEUR or SIMILAR on B&B
DAY 3, ANTSIRABE – MIANDRIVAZO:  220 km: 5 hours with stops
Breakfast at hotel. City tours of Antsirabe with visits to various artisans' workshops then we head on to Miandrivazo for 3 to 4 hours drive. The landscape is changing step by step, from green highland to savannah, erosion called « lavaka ». Arrival in Miandrivazo around noon. Visit to a local village to meet the Sakalava people. Overnight in PRINCESSE DU TSIRIBIHINA on B&B
DAY 4, MIANDRIVAZO – MORONDAVA – KIRINDY: 331 km: 6 hours with stops
Departure to Morondava, the landscape is still dominated by rice fields, empty hills, red soil, and palm trees. Just before entering Morondava, we see our first couple of baobabs. Centre of the Sakalava kingdom, Morondava is a prosperous rice-growing area, it is also known as a seaside resort, with a laid-back atmosphere. Many different cultures and religions manage to intermingle in this region which makes it special. We continue our drive to Kirindy through the alley of baobabs. Arrival and check in at the lodge.  This area is known for its baobab and its dry western forest. Night expedition to see six species of lemurs like lepilemur ruficandatus, microcebus myoxinus or murinus, phaner furcifer, cheirogaleus medius, mirza coquereli.  Night at KIRINDY LODGE on B&B
DAY 5, KIRINDY – BEKOPAKA: 200 km: 6 hours with the ferry transfer
Morning walk with a special guide. Kirindy is one of the most rewarding wildlife site where visitors spot 8 species of lemurs: the most common one are: Verreaux's sifaka, fulvus rufus, red-fronted brown lemurs. Then we drive straight to Belo through the Baobabs forest and the red soil of the west.  Arrival at the Tsiribihina River, then take a ferry to cross to Belo sur Tsiribihina to reach Bekopaka. This drive brings us to profound Madagascar, close to the real life of Malagasy people in the driest part of the country.  Arrival in Bekopaka around 18.00. Overnight in Hotel OLYMPE DU BEMARAHA on B&B
DAY 6, BEKOPAKA: TSINGY DE BEMARAHA NATIONAL PARK
After breakfast, 4 to 6 hours hike in the reserve of "Tsingy de Bemaraha, classified as World Heritage. This massif is spectacularly eroded into a chaos of karsts pinnacles. Here nature is in perfect harmony with this wild and sharp limestone massif. The flora consists of a dry western deciduous forest, typical plants of these dry limestone areas, such as Aloe and baobab Andasonia, the red-flowered flamboyant tree Delonix regia which is so widely planted in the tropics. Madagascar's sole native banana Musa perrieri also occurs here. We can also see plants which grow in the stone like different species of pachypodium and orchids. Concerning the fauna, we can see the stump-tailed chameleon Brookesia perarmata known from only a handful specimens. The bird list contains 53 species. The 7 species of lemurs include Decken's sifaka Propithecus verreauxi deckeni. Night at the same hotel.
DAY 7, BEKOPAKA – MORONDAVA: 210 km: 8 hours with the ferry transfer
After breakfast, 6 to 8 hours drive back to Morondava. Along the way, we stop in « ALLEE DES BAOBABS » for sunset photo; this is the region of splendid Grandidier's baobab, Andasonia grandidieri. Arrival in Morondava end of the afternoon. Check-in and night in Hotel. CHEZ MAGGIE on B&B
DAY 8, MORONDAVA – ANTSIRABE: 380 km: 6 – 7 hours with stops
After breakfast, 4 hours drive to Miandrivazo then have 3 hour's drive to Antsirabe. Night LES CHAMBRES DU VOYAGEUR on B&B
DAY 9, ANTSIRABE – TANA – ANDASIBE: 269 km: 6 to 7 hours with stops
Today we drive northward to Tana across the highland, and then take the RN2 for 3 hour's drive eastwards to Andasibe, through the green landscape of the east. This step brings us to the humid part of the country with many primary forest and lakes. Night in Hotel FEON'NY ALA on B&B
DAY 10, ANDASIBE: ANDASIBE NATIONAL PARK
Morning, 3 to 4 hours hike to Andasibe National Park, a huge tropical rainy forest in the east. 9 species of lemurs can be spotted; the highlight is the "Indri Indri" which is the largest lemurs of the island. This 810-ha reserve is also home to unique wildlife. It contains a wide variety of orchids, canopy, endemic animals like chameleons, tenrecs, and many birds. After the hike, visit to Andasibe village, a typical Betsimisaraka (The-Many-inseparable) village, the second largest tribe. Afterwards, visit to the "lemurs' island" which is the best spot to take photos of lemurs up close. Night at the same hotel.
DAY 11: ANDASIBE – TANA: 145 km: 3 to 4 hours with stops

Morning drive back to Tana. On the way, we stop in "Pyereras Reptiles park" to see farmed chameleons and other species of reptiles. On a walk inside the forest, we can spot 2 species of lemurs: the sifaka "coquereli" and the brown lemurs "fulvus". Arrival in Tana, city tour of the town then stops in Marché Artisanale "La digue" for souvenir shopping. Check-in and Night at ICHOTEL on B&B
DAY 12: TANA – INTERNATIONAL FLIGHT or Another destination
End of the tours.
END OF SERVICE
LAND ARRANGEMENT PRICE PER PERSON
| | | | | |
| --- | --- | --- | --- | --- |
| NUMBER OF PAX | 2 | 3 | 4 | SINGLE SUPPLEMENT |
| RATE € | on request | on request | on request | on request |
INCLUDED
Accommodation in double room on BB
Excursions mentioned in the program
Private 4×4, driver, fuel during the trip
Entrance fees, special guides in parks mentioned in the program
Ferry boat transfer in Belo and Bekopaka
All transfers from Hotel to the airport and back

NOT INCLUDED
All excursions not in the program
Personal expenses, drinks, tips
All insurance
Flights and taxes
Recommended Posts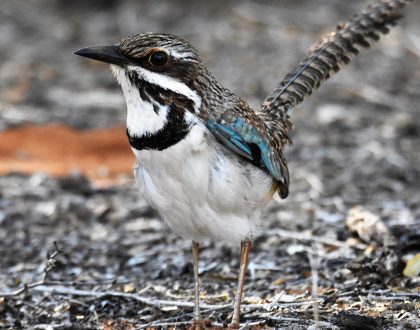 August 6, 2018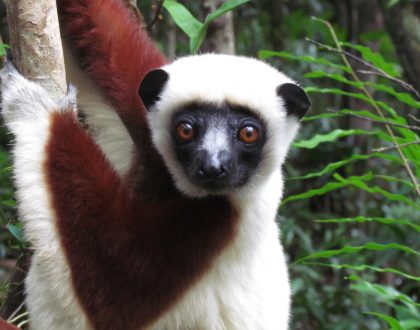 July 17, 2018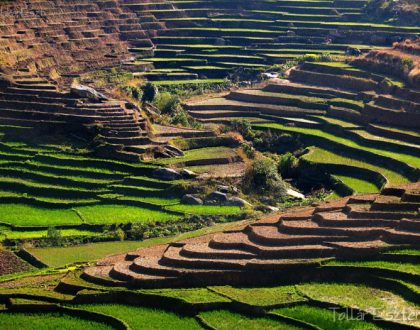 May 28, 2018