---
INTRODUCTION
This tour was designed for families with young children : shorter yourneys, childfriendly lodges and activities.
HIGHLIGHTS
Diverse landscapes and tribes
Eastern rainforest, Canal de Pangalanes and Perfumed Island Nosy be
Private parks: Vakona lemur's island, Palmarium Reserve, Aye Aye reserve of Palmarium
National parks: Andasibe, Amber Mountain,  Ankarana
DAY TO DAY PROGRAM
DAY 1: ARRIVAL IN ANTANANARIVO
Arrival in Tana, meet and greet upon arrival in the capital of Madagascar. Then, transfer to your hotel GASSY COUNTRY HOUSE for spending the night, on B&B.
Antananarivo means "City of thousands". Its story began 500 years ago, the king Andrianjaka sent over 1000 soldiers to cut the forest and to conquer the land. Then the great King Andrianampoinimerina, attracted by the beauty of the city, decided to build a palace there, which became later his successor's main palace. From here the same king started to unify the different kingdoms of the island. During King Radama's reign Antananarivo became the capital of all Madagascar. Antananarivo is build on 3 levels : the high city where the queen's palace is situated, the first area occupied during the royal period, then the mid-city, the administrative area where all the better boutiques of the capital are found, then the low city which is the commercial area of the town.
DAY 2: TANA – ANDASIBE: 145 km – 3h
Today, we have 3 hours' drive eastward to Andasibe, through the green landscape of the east. This step brings us to the humid part of the country with many primary forest and lakes. . Our first stop is in the waterfall which is place for " collective laundry", in fact after an funeral, the whole family comes here to do their washing. This is a ritual in the highland, meaning that the river takes away all the bad luck. Our second stop is in Manjakandriana which is a huge agricultural city. It supplies milk and vegetable to the whole region. On the way, we stop in Pyereras Reptiles park to see farmed chameleons and other species of reptiles. On a walk inside the forest, we can spot 2 species of lemurs: the sifaka "coquereli" and the brown lemurs "fulvus". Night in Hotel on B&B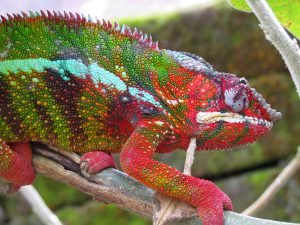 DAY 3: ANDASIBE
Morning visit of the Special Reserve of Andasibe, to see the Indri Indri the biggest lemurs of the island. This 810 ha reserve is a very unique with endemic fauna and flora. It contains a wide variety of orchids, canopy, animals like chameleons, tenrecs, and many birds. In the end of the afternoon, visit of a Betsimisaraka (The-Many-inseparable) village, the second largest tribe. Overnight in the same hotel on B&B.
Andasibe National Park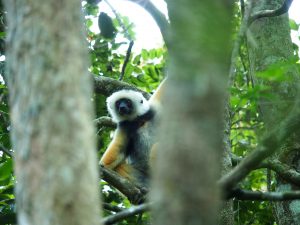 Situated on the east, rainy and humid part of the country, at 135 from Tana and 25 km from Moramanga, Andasibe is the nearest and easiest National Park to visit from the capital. This 810 ha reserve is a very special one with a high rate of endemicity as far as fauna and flora are concerned. It contains a wide variety of orchids, canopy, endemic animals like chameleons, tenrecs, and many birds. The highlight is without any doubt to observe the Indri Indri, the largest lemurs and known for its spectacular whooping calls. 9 species of lemurs, 10 species of tenrecs, 3 carnivores and 5 rodents, 109 birds have been recorded among them is the blue coua, coral-billed nuthatch vanga, they can be easily seen in the small stream and river around the park. 28 reptiles species have been recorded; among them is the tiniest one which measures only 5 cm and the largest one which measures 60 cm. Of special note is the 2 species of stump-tailed chameleon " brookesia thieli" and "Brookesia theriezeni" both of them are only seen in the area. The reserve is also very rich on amphibians, and claims a world record for frog diversity, 24 species have been recorded, the most noteworthy frog is the tiny golden mantella which is only found in the area. Spiders and insects are abundant.
DAY 4: ANDASIBE – MANAMBATO – AKANIN'NY NOFY
3 hour's drive eastwards to Ankanin'ny Nofy, stop in Brickaville, before we take the dirt road to Manambato then take a 1 hour boat to reach Akanin' Ny Nofy. We cross the Rasoabe Lake then the Pangalanes channel built during the colonisation day for commercial use where we can admire many birds and the luxuriant vegetation of the east. Night in Hotel on B&B.
DAY 5: AKANIN'NY NOFY
Akanin'ny nofy means nest of the dreams. Surrounded by Ampitabe lake, boarded with white sandy beach, crystal clean water, only accessible by boat, it is an ideal for relaxing in the middle of luxuriant nature. Overnight in the same accommodation, on B&B.
 Palmarium Reserve:
A private park about 4 ha where we can see many different kinds of animals: lemurs, chameleons inside a luxuriant rainy tropical forest. The highlights are the "Indri Indri", sifaka or "propithecus verreauxi" that you can see very close. Also night active lemurs like eulemur coronatus, and macaco. With its wide tropical garden, many orchids and different flowers can also be spotted.
DAY 6: AKANIN'NY NOFY – TAMATAVE – TANA
After breakfast, transfer to the harbour; embark on a 2 hours boat ride along the Pangalanes channel to Tamatave. As the only means of communication in this area, the channel is very alive, and busy with fishermen, bamboo pirogue transporting goods, charcoal and timbers. We will see women and children washing or just playing along the waterways. Transfer to the airport and fly back to Tana. Night in Hotel on B&B.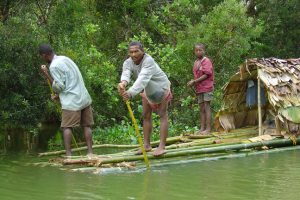 DAY 7: TANA – DIEGO-SUAREZ (Domestic Flight)
on B&B.
After breakfast, transfer to the airport for the flight to Diégo-Suarez. After landing, short city tours of Diego, then transfer to for the check-in to your lodge: "Jungle Lodge" on half Board.This park offers a wide range of activities such as trekking around the region, rock climbing or just relax and enjoy the beautiful natural environment. Overnight in your lodge on on B&B.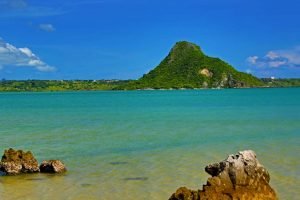 DAY 8: DIEGO SUAREZ:
Full day in Jungle park, ideal for kids to immerse in a natural environment, sustainable and ecotourism. Many activities are offered on the spot, like hiking, bird watching, accro park, paintball, bush golf. Overnight in the same lodge  on B&B.
DAY 9: DIEGO-SUAREZ – JOFFRE VILLE – TSINGY ROUGE – ANKARANA
After breakfast, drive to Joffre Ville and have a morning visit to Montagne d'Ambre National Park. Then drive to the "TSINGY ROUGE", half way between Diego Suarez and Ankarana, we take a detour on a dirt track of 7 km and admire the 'Red Tsingy' which are strange natural sculptures resulting from erosion by the local river. From there we drive for 2 hours to reach Ankarana. Night in Hotel on B&B.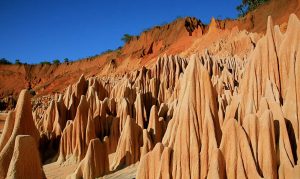 Amber Mountain National Park
Created in 1958 this national park is located 7km's from Joffre Ville and 32km's from Diego Suarez. It is a tropical rainforest with an area of 18,200 hectares and the altitude in the park ranges from 850m – 1485m. The park has its own microclimate which makes the flora and fauna unique. Seven species of lemur have been recorded in the park including the crowned lemur and Sanford's brown lemur which are usually easily spotted. With a high annual rainfall rate, the park is covered with upland moist tropical forest, with numerous giant tree species, smaller ferns and several orchid species.
The easiest and most visited one is the "Sacred Waterfall" (Cascade Sacree). It is a short and very rewarding walk to a waterfall falling into a pool where you have good chances to spot some lemurs and birds.
The Cascade Antankarana circuit is also easy and not long, the Cascade Antomboka is a little bit harder. Other treks lead to some crater lakes. The shortest walk is to the Lac de la Coupe Verte, with nice views of the forest. To visit the "Lac Grand" and "Lac Maudit" one will need the whole day. It is also possible to climb up to the Amber Mountain itself and enjoy a spectacular view over all the forest beneath.
DAY 10 : ANKARANA
After breakfast, we start our day exploration of the "Tsingy Ankarana", where the limestone highland has been worked by the erosion and which gives us the impression of walking on a spiny land. It offers us an extraordinary spectacle. The vegetation itself is as unusual as the Tsingy itself. The area consists of 18,225 ha covering a massif of Jurassic limestone rising abruptly from a surrounding savannas-like plain. Dominant canopy trees include Dalbergia and casia various figs, and superb specimens of the baobab Adansonia madagascariensis, numerous palms. The Tsingy harbours a fascinating assemblage of drought-adapted succulent plants. These include Pachypodium decaryi, Adenia neohumbertii and so on…Abundant wildlife in forested canyon. Overnight at the same hotel on B&B.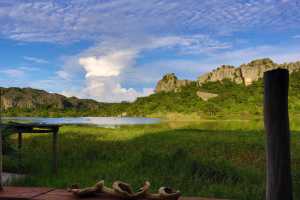 Ankarana Special Reserve is located about 108km south of Antsiranana (also named Diego Suarez) and covers 18,220ha. Ankarana is known for its limestone karst pinnacles called tsingy along with its extensive cave system and network of underground rivers, some of which contain crocodiles. Dry deciduous forest is found in much of the reserve. Visitors may encounter the crowned lemur, Sanford's brown lemur, Perrier's black lemur, the northern sportive lemur and dwarf lemurs. A variety of chameleons and leaf-tailed Uroplatus geckos can also be found in the reserve.
DAY 11: ANKARANA – ANKIFY – NOSY BE
This morning we travel to Ambanja passing alongside the Tsaratanana Mountains which is home to the highest peak in the country. Once we are in Ambanja we visit Cyrille plantation, for an explanation of the crops such as cacao, coffee and vanilla that are prevalent in this fertile region of Madagascar. Then we take the speed boat in Ankify for 1 hour transfer to Nosy be. Arrival in Hell Ville then transfer to your hotel in Nosy be. Night in Hotel on B&B.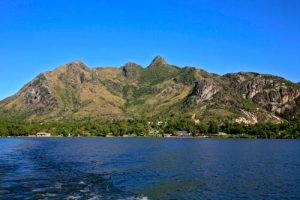 DAY 12: NOSY BE: NOSY KOMBA -TANIKELY
Excursions to Nosy Komba and Nosy Tanikely which are isolated and tranquil isle accessible by boat. First we stop over to Nosy Komba which means island of lemurs. It is the lemurs that brings in the visitors. One of the former glories of this island is its coral but it has sadly almost completely disappeared so snorkelling is no longer rewarding. Then we continue our excursion to Nosy Tanikely. It is a tiny island with a light house, very famous for its rich submarine park. It is also a rich place for waterspouts like diving, fishing, snorkelling where we can see an amazing variety of marine life – coral, starfish, anemones, every colour and shape of fish, turtles, lobsters… Back to Nosy Be at the end of the afternoon, transfer and night in Hotel on B&B.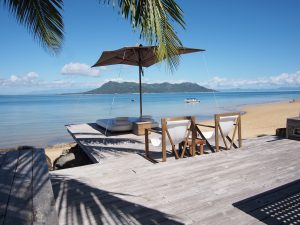 DAY 13: NOSY BE: NOSY IRANJA
90minutes boat transfer to Nosy Iranja, located on the north of Nosy be. Called "Turtles' Island" for the visiting Hawksbill turtles that bury their eggs in its immaculate white beaches. This perfect sanctuary is also home to unique fauna and flora that live in gentle tranquillity surrounded by azure seas and natural coral reefs teeming with exotic fish. For a few unforgettable days, the stunning natural beauty of Nosy Iranja could be your very own tropical paradiseSun kissed beaches, a azure ocean boasting natural coral reefs teeming with exotic fish, breathtaking sunsets and a tropical climate combined with absolute tranquility, natural beauty and unique flora and fauna, provide the perfect setting for an unforgettable getaway in this paradise. Sun kissed beaches, a azure ocean boasting natural coral reefs teeming with exotic fish, breathtaking sunsets and a tropical climate combined with absolute tranquillity, natural beauty and unique flora and fauna, provide the perfect setting for an unforgettable getaway in this paradise. Back to Nosy be by 2.00 pm. Transfer to your hotel. Night in Hotel on B&B..
DAY 14: NOSY BE – TANA (Domestic Flight)
Flight back to Tana and transfer to hotel. Overnight at the hotel GASSY COUNTRY HOUSE, on B&B.
DAY 15: TANA – FLIGHT OUT
After breakfast, excursion to Croc farm. Then, transfer to airport on time for your flight back home.
END OF SERVICE
Recommended Posts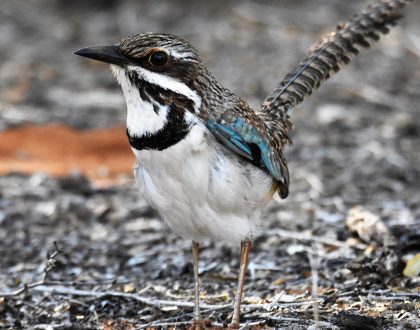 August 6, 2018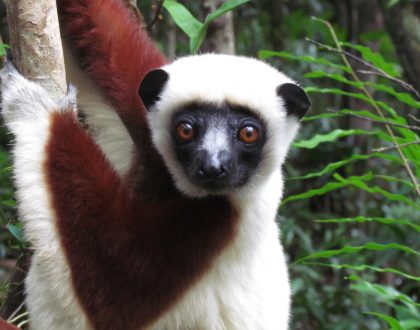 July 17, 2018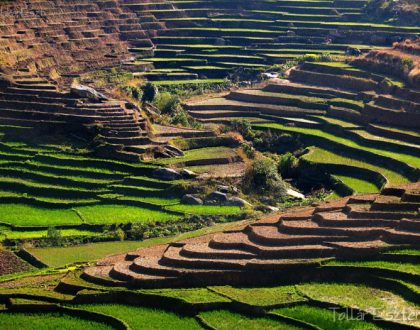 May 28, 2018