---
INTRODUCTION
This tour combines the wide variety of landscapes, people, wildlife and parks one can experience along the Route Nationale 7 with a leisurely river descent on the Tsiribihina River Westwards.
HIGHLIGHTS
Ifaty beach and lagoon
Isalo National Park
Anja village park
Ranomafana National Park
Antsirabe
Tsiribihina river descend
Baobab alley
DAY TO DAY PROGRAM
DAY 1 : TULEAR – IFATY 20 km
From Tuléar, we'll take the National 9 and head  northwards to Ifaty along the coast. Forest of mangroves, thorny bushes,  sand, dunes, spiny forest and thorny bushes, different euphorbiacea and didieracea are the scenery highlights we see till Ifaty. Mangroves are lining  the coast alternating with Vezo fishermen villages. Many sail pirogues are lining the  beach by the end of day, fishermen back from the ocean, bringing the catch of the day so that women and children can sell them in the restaurants and hotels nearby
TULEAR:Located in the Deep South, crossed by the "Tropic of Capricorne" and bathed by the Canal de Mozambique, Tuléar used to be one of the main harbours of Madagascar during colonial time. Different tribes: Vezo, Sakalava, Masikoro, Antandroy, manage to intermingle in Tuléar, making it a cosmopolitan city with different cultures and traditions which are all based on the cult of ancestors.
.ARBORETUM DANTSOKAY: Located 12 km south-east from Tuléar town, a botanical garden created by a Swiss botanist Hermann PETIGNAT 30 years ago. On a surface of 40 hectares, surrounded by vegetal hedges, the project initiator is to preserve and conserve the most threatened plants species, by  reproducing and multiplying  either by seeding, cutting or transplantation process, also to preserve most of them from constant deforestation, bush fire The Antsokay Arboretum is entirely mainly focused on conservation of the plants from the south western part of Madagascar and is working in close collaboration with worldwide environment preservation institutions. More than 1000 plants species, mostly endemic to the region have been recorded with 100 species of Euphorbia, 60 species of Kalanchoe. Also birds list is very high
DAY 2: IFATY
Day off. Ifaty is situated on the largest lagoon of the country, it is an ideal place for relaxing. Many excursions are possible like whale watching, snorkelling and diving or sea excursions with a local boat. In the afternoon we can walk to the village of Mangily where we observe the Vezo fishermen's life, especially when the fishermen come back from fishing.
DAY 3: IFATY – ISALO :  247 km
After breakfast, we drive  to Ranohira that we'll reach within 4 hours. Our first stop is in Tuléar where we'll have a short city tours. From there, we take the National 7 and head northwards on to Isalo.  This step brings us to the interior part of Madagascar, the land of Mahafaly. Along the way well see many tombs of these tribes. We enter the Andranomaintso zone and we pass through the national park of Zombitse, a remaining of the western semi dry forest which serves as a transition zone between the dry south and the land of Isalo, a formation of continental sandstone rocks. Arrival in Isalo by the beginning of the afternoon. Settling and overnight in our hotel.  
Zombitse National Park:Established in 1997 and covers 363 km² of dry forest, marshes, and savannas. It is located on the southwest of Madagascar about 90km west of Ranohira and 20km northeast of Sakaraha. The Park is divided into three different sections: Zombitse (168 km²), Vohibasia (161 km²) and Vohimena Isoky (32 km²). A transition zone between the dry and humid forest of Madagascar Zombitse shelters the most important remnant of dry deciduous forest of the country. Flora is especially rich within the protected area: Baobabs and several orchids are common. 15 small mammals, 2 carnivorous and 8 lemur species, such as Verraux´s sifaka, red-fronted brown lemur, ring-tailed lemur, pale fork-marked lemur and the Hubbard´s sportive lemur might be spotted here. Birds are also a park highlight. There are 85 species, most of them endemic like the rare Appert´s greenbul. Also 33 reptile and 8 amphibian species.
DAY 4: NATIONAL PARK OF ISALO
ISALO NATIONAL PARK The park covers an area of 81,540 ha comprising the entire stretch of the Isalo massif. A spectacular landscape with its eroded sandstone massif, cut by deep canyons, making it the most breathtaking scenery and the most visited national park of the country. It reminds us of the landscape of "the grand canyon" in the USA, with its yellow, red and brown like colours and its eroded form. The massif is also the place where the Bara bury their dead first in temporary graves, then into
defintive tombs. What is special with this park is how nature seems to be in harmony. It's amazing to find how plants have adapted to the harsh and dry climate of Isalo. We will see pachypodium, aloes, which grow in the rocks. These plants have a special roots and trunks where they store water when it rains. Then they can live without water for many months. For animal lovers we'll see ring-tailed and brown lemurs, many sorts of lizards, chameleons.
Day excursion in the National Park of Isalo. This park is very famous for its strange sandstone geological formation. This is also a place where the BARA tribes used to bury their dead. Possibility to spot the lemur catta. Around 4.30 p.m we drive to the "The Natural window " to enjoy the  sunset. Accommodation in the same hotel.
Day 5: ISALO – AMBALAVAO 226Km
Drive northward to Ambalavao. Today we drive along the Andringitra rocky mountain chain. As we cross the "Gate of South" the landscape changes from the dry south to the fresh and green highland. Arrival in Ambalavao overnight, at Hotel
Day 6:  AMBALAVAO – RANOMAFANA 116Km
Breakfast. Then visit Anja Park, a community based park run by the village. Anja park  is home to many families of lemurs catta.  Then we visit Iharintsena village, a community based tourism where tourists are accommodated at the villager's house. Finally visit the "Papier Anteimoro" workshop and wine tasting at Soavita winery. We continue to Ranomafana. Night in Hotel.
DAY 7: RANOMAFANA national park
RANOMAFANA NATIONAL PARK Situated in the eastern part of Madagascar, 800m to 1200m altitude, with a surface of 41.000 ha consisting of a series of steep hills and numerous small streams running into the Namorona River. Created in 1991, Ranomafana National Park consists of one of the richest rain forests of the country: more than 70% of the park is still  primary rainforest, despite heavy exploitation of the forest in the past. 278 species of trees and bushes '(81 of which are endemic) and numerous other species of smaller plants or medicinal plants have been recorded. In the higher areas, the trees are festooned
with mosses and lichens, many fern trees. The secondary forest is dominated by the introduced trees and giant bamboos. Orchids such Bblophyllum and Eulophiella are abundant with ferns tree, palms, mosses, a variety of flowering wild plants.  It is also the most important site of lemurs in Madagascar, 12 species have been recorded and it is until now the only confirmed site for the two rarest species: the greater bamboo lemur Hapalemur simus and the golden bamboo lemur Hapalemur aureus. Also Fulvus Rufus, Varieca Variegata, Hapalemur griseus, Avahi lanigeur, Lepilemur mustelinus, Propithecus diadema edwardsi, Cheirogaleus major and Daubentounia madagscariensis might be spotted in the park. Nocturnal lemurs are woolly mouse or " Microcebus rufus", sportive lemurs " Lempilemur mustelinus". The striped civet:  FOSA, scientifically called "Cryptoprocta ferox" might be seen 29 species of mammal, 98 species of birds representing 38 families in which 68 species are endemic to Madagascar have been recorded. More than 5 species of chameleons, one of which Brookesia superciliaris, is a special one as it has the same color of the dead leaves on the forest floor. Insects are of exceptional interest, like the bizarre Giraffe-weevil scientifically known as Trachelophorus Giraffa. Steep mountains, dramatic waterfalls and natural hot springs make this endangered and exotic forest charming and unusual. The name Ranomafana means «hot water «it has a thermal pool where visitors can relax.
3 to 4 hours hike in the rainforest of Ranomafana National Park which was created in 1991. Home for 12 species of lemurs including the two endangered species of bamboo lemurs, for more than 100 birds, reptiles, butterflies and other insects. Night in the same hotel.
DAY 8: RANOMAFANA  – ANTSIRABE 
Departure to Ambositra after breakfast. Today we come across the highlands, characterised by its terraced rice fields beautifully arranged on the hills, its valleys decorated with wide vegetable plantation,  its chilly climate and its Asian featured population. Arrival in Ambositra by noon. We visit some workshop for local handcraft mainly made from wood.  Continuation to Antsirabe, that we reach in the afternoon. Antsirabe or "the place of salt ", an elegant city best known as the centre of beer, we can smell the Bewery as we enter the town. With its temperate climate, all fruits and vegetable which grow in cold climate are found in Antsirabe. Known as a city of handcrafts, we will visit some ateliers, like "miniature of bike, old cars of 2 CV,  then the zebu horn workshop where we can see the transformation of Zebus horn into decoration.
Day 9: ANTSIRABE – MIANDRIVAZO – MASIAKAMPY : 427 km
Departure to Miandrivazo early in the morning. The "lavaka" will shape the landscape throughout the drive. Arrival in Miandrivazo at noon, transfer to Masiakampy where the boat is waiting to sail to Tsiribihina. Beginning of the cruise. Stop around Sahambano.  Camping on the bank of the river on full board.
Day 10: GORGE OF BEMARAHA
Departure around 07.30, breakfast on board. This day is set for seeing animals like lemurs, crocodiles, birds, bats along the river, and to have a look at primary semi- dry forests along the river. Around 09.30, hike up  to the natural swimming pool and waterfalls for bathing. Lunch on board. Arrival in Berevo around 15.30. Visit of Berevo village. After 1 hour of navigation, stop and have our tent ready for the camping on the bank of the river on full board.
DAY 11: COASTAL PLAIN OF MENABE  – TSIMAFANA – MORONDAVA 95 km
Departure around 07.30. After the end of « Gorge of Bemaraha », we cross the plain of Menabe which is characterised by rice fields on the riverbanks. We can also observe the life of Sakalava tribes who live along this big river. Arrival in Tsimafana. Then 3 hours drive to Morondava. Stop in « ALLEE DES BAOBABS » for sunset photo. Night in Hotel
DAY 12: MORONDAVA –  another destination
Transfer to the airport to fly to another destination or extension.
END OF SERVICE
PRICE per PERSON in DOUBLE ROOM
INCLUDED
Transport with private car 4X4 with driver and fuel.
Accommodation in a double room on BB according to the program below
All transfer Hotel / Airport /hotel as mentioned in the program
Entrance fees and special guides in National Park of Ranomafana – Isalo – Zombitse
NOT INCLUDED
Domestic flights and taxes
Meals, drinks and personal expenses
Personal insurance
Recommended Posts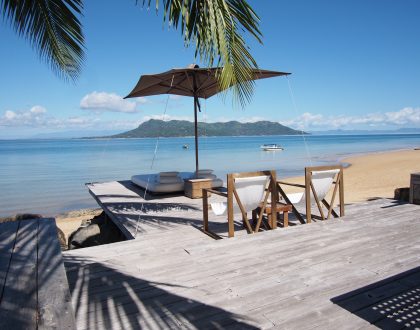 May 28, 2018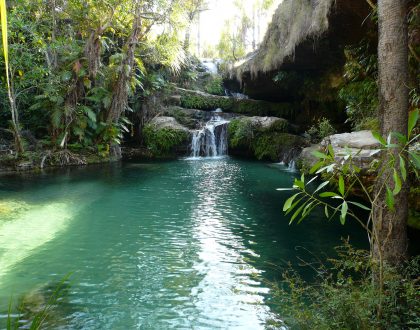 May 28, 2018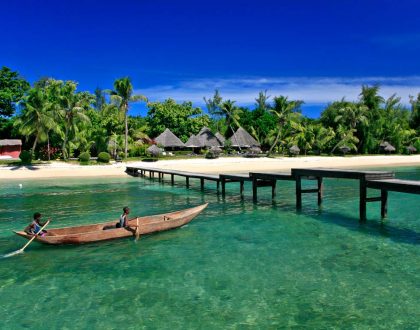 May 28, 2018