---
This tour covers a large part of the country, from the Highlands to the western coastal plains with their baobabs, crossing the southern savannas and exploring the eastern rain forests.
Highlights are : Baobab Alley, Tsingy de Bemaraha, the river crossings of the west, Ifaty Lagoon, National parks of Isalo, Ranomafana, Andasibe.
DAY 1: Fight to Antananarivo. Upon arrival at the airport, you'll be met and greeted by your English-speaking driver. Then 3 minutes transfer to GASSY COUNTRY HOUSE where we spend the night on B&B.
DAY 2: TANA – MIANDRIVAZO 385KM – 7HOURS
Enjoy a fresh breakfast at hotel. Then, ICTours reps will meet you with the driver for a briefing of the whole tours. Ready, you'll take the National 7 and drive southward. Our first direction is to Antsirabe that we reach within 3 hours, we cross the highland landscape with its beautiful terraced rice-fields along the hill, Arrival in Antsirabe by noon. Founded by Norwegian in 1856, it is an elegant city, which really feels and looks like European city. Dotted with cool climate and thermal spring, it is one of the most attractive regions in Madagascar for its clement climate. Afternoon, we head on westwards to Miandrivazo, leaving the National 7 and drive the National 4. The landscape is gradually changing, leaving the highland behind and giving place to savannah, empty hills, valley, and big hole called "lavaka", resulted from erosion. Also the climate is changing as we are now in the hottest city of the country. Arrival in Miandrivazo by the end of afternoon, we check in and overnight in hotel PRINCESSE DU TSIRIBIHINA on B&B.
DAY3: MIANDRIVAZO – KIRINDY 310Km
Short city tours of Miandrivazo, then departure for 4 hours drive to Morondava, then take the road to Kirindy, 60 km of track from Morondava. As we come close to Morondava, the landscape is now changing a bit, giving place to flat rice fields, decorated with baobabs. We need to arrive in Kirindy before 04.00pm, to be in time to spot the fossa. After check-in, we will have 1 hours hiking in "Kirindy Park" with a guide. At around 6pm, we meet our guide again for a night walk to see night active animals, night at KIRINDY LODGE on B&B
DAY 4: KIRINDY – BEKOPAKA 140 km: 5 hours drive;
Early morning we have 2 hours hike to look for birds before we take our breakfast. Then around 9.00am, with a 4X4 car, 2 hours drive to Tsimafana through the Baobabs forest and the red soil of the west. We take a local ferry boat to reach Belo sur Tsiribihina. Then head on to Bekopaka for another 4 hours adventure in a dirt track. This drive brings us to Madagascar profound, the bush African side of the country with its dry and red soil. One can experience the real life of Malagasy people in the driest part of the country. Arrival in Bekopaka by end of the afternoon, check-in and overnight in Hotel OLYMPE DU BEMARAHA on B&B.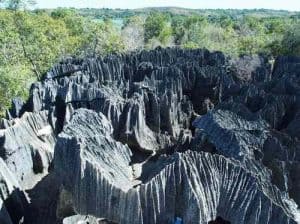 DAY 5: BEKOPAKA: NATIONAL PARK of TSINGY DE BEMARAHA
Morning, after breakfast, 4 to 6 hours hikes to the "Big Tsingy", a limestone mountain classified as an international heritage. This massif is spectacularly eroded into a chaos of karsts pinnacle which gives it a very strange form. Here nature seems to be in perfect harmony with this wild and sharp limestone mountain. The flora consists of a dry western deciduous forest, plants typical of these dry limestone areas, such as species of Aloe and baobab Andasonia, the red-flowered flamboyant tree Delonix regia which is so widely planted in the tropics. Madagascar's sole native banana Musa perrieri also occurs. Regarding flora, we can see typical plants growing in the rocky area such pachypodium, orchids. Concerning the fauna we can see the stump-tailed chameleon Brookesia perarmata known from only a handful specimens, the bird list contains 53 species, seven species of lemurs including Decken's sifaka Propithecus verreauxi deckeni. Night at the same hotel on BB.
| | |
| --- | --- |
|   | |
DAY 6: BEKOPAKA – MORONDAVA 210km
Breakfast at hotel then, cross Manambolo river and take the dirt road to Morondava. Stop in Belo sur Tsiribihina where we cross the Tsiribihina river with a local ferry to reach Tsimafana. From there another 4 hours to reach Morondava. We are in the region of splendid Grandidiers baobab, Andasonia grandidieri. We stop in « ALLEE DES BAOBABS » and enjoy the sunset picture of this unique moment, with its different colours and lights. Night in Hotel. CHEZ MAGGIE on B&B
DAY 7: MORONDAVA – MANJA 120km, 6 hours
After breakfast, we drive southwards to Manja via the road "Mon ami", a private road owned by  Kanto Hotel where we overnight.  We'll drive across thorny bushes, savannah and typical western villages with small wooden huts. From time to time, we will meet a group of women going to or coming from the local market, bringing goods on their head, many children waving hands to the tourists driving along. We cross the big river of Kabatomena where the car has to drive through the river. Estimated arrival in Manja by the end of the afternoon. It used to be one of the main districts of the west during colonial time as the region is very fertile for corn, rice, beans. Until now we can see some colonial ruined buildings in the centre of Manja.  Overnight in hotel KANTO on B&B (a very simple and basic hotel but with toilet and shower)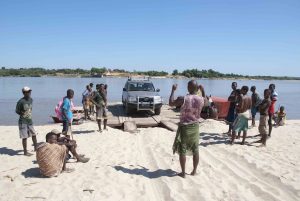 DAY 8:  MANJA – IFATY 160KM, 8 hours
After breakfast, we'll continue our drive, we take another ferry and cross the Mangoky River and reach the town of Bevoay,  where a big dam has just been built to water all the fertile plains, the rice and vegetables fields surrounding.  From there we take the National road 11 which leads us to Ifaty that we'll reach by the end of afternoon. We will see forest of different species of baobabs, the "Za", the " Grandidieri", the "fony", and the spiny forest, and thorny bushes. The dirt track ends and now it is a tar road till Ifaty, a seaside resort north of Tuléar. Arrival in Ifaty late in afternoon, check-in and night at BELLE VUE on B&B
DAY 9 and 10 : IFATY
Day at leisure in Ifaty. Located on one of the best lagoons of the south west, with a very nice beach, Ifaty is  protected by a large coral reef which makes it an ideal for diving and snorkeling. Many excursions can be arranged on the spot at your own expense, like visiting a Vezo village to experience the Fishermen' s life, visit the reserve of  Reniala  with 2 species of baobabs, the spiny bush and many reptiles.  From June to September, humpback whales come and give birth in the temperate waters of Ifaty so you can enjoy  whale watching. Overnight at the same hotel.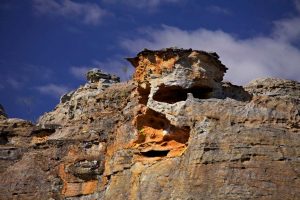 DAY 11: IFATY – ISALO 230km After breakfast, we drive to Isalo, the park beside the town of Ranohira, that we'll reach within 4 hours. Our first stop is in Tuléar where we'll have a short city tours. From there, we take the National 7 and head northwards on to Isalo. This step brings us to the interior part of Madagascar, the land of Mahafaly. Along the way well see many tombs of these tribes. We enter the Andranomaintso zone and we pass through the national park of Zombitse, a remaining of the western semi dry forest which serves as a transition zone between the dry south and the land of Isalo, a formation of continental sandstone rocks. Arrival in Isalo by the beginning of the afternoon. Settling and overnight in our hotel. Night in MOTEL DE L'SALO on B&B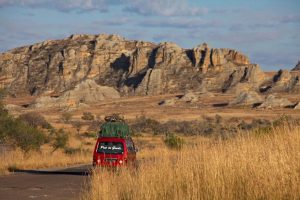 DAY 12: NATIONAL PARK OF ISALO Day excursion in the National Park of Isalo to the famous «Natural swimming pool». This park is known for its strange geological formation. Composed of sandstone and eroded by  rain and  wind, this mountain offers the most spectacular scenery of the country. This is also a place where the Bara tribes bury their dead, first temporarily until they have enough money to buy a silver coffin. If we are lucky, we will see the lemur catta during this walk. Around 16.30, we'll drive to the "The Natural window" where we see the beautiful sunset between rocks which look like window. Night in the same lodge
DAY 13: ISALO – RANOMAFANA 285Km 4hours After breakfast, we head on to Ihosy the capital of Bara tribes which are shepherds of Zebu. We pass through the huge "plateaux de Horombe" with its very spacious savannah, which reminds us of "the no man's land". This is a huge and empty grassy plain. From one place to another we can see some droves of zebus, accompanied by a Bara man with his rifle. We arrive in Ihosy, the land of Bara who are darker –skinned with African features if compared to Merina. They are cattle-raisers and many activities during their life are associated with Zebu. For instance, to get a wife, a man has to steal few zebus to show his strength and virility. When they die, they have to kill many zebus as well. The landscape is becoming more and more grandiose. Huge Granite Mountains are imposing themselves in the spacious and empty plains. We feel like being swallowed by this emptiness, by this tranquillity. From a long distance, we can already spot a huge imposing rocky hill called "Bishop's hat". This is a sacred place for the local people, no one ever ventures to walk down there as it is a burial site and it was the place where the local people's ancestors preferred to commit a collective suicide rather than to surrender to the Merina's domination. . Another spectacular view is the huge granite dome with twin rock towers called: "the gate of the south" which marks the beginning of the Highlands and the end of the South. Head on to Ambalavao, stop in Anja to see many families of lemurs catta living in Anja forest. This park is run by the village and part of the income serves to pay the teachers of the local school We head on to Fianarantsoa the capital of Betsileo tribes, also called "the gate of the South". A very catholic city, this is the seat of Jesuits and the best university is found there. We continue our drive to Ranomafana that is reached within 1 hour from Fianarantsoa. Night in IHARY HOTEL ON B&B
DAY 14: RANOMAFANA NATIONAL PARK After breakfast, we'll explore the National Park of Today we explore the rain forest of Madagascar. Ranomafana is situated in the east. Apart from its huge tropical forest, it is also a thermal city where visitors can relax in the hot spring water. Ranomafana National Park was created in 1991. This 3 to 4 hours expedition in the forest with special guide enables us to see 12 species lemurs, the most important one the "golden lemurs" which has been discovered very recently, more than 100 birds, reptiles, butterflies and other insects are seen in the park. The area is covered with forest, in the higher areas the trees are festooned with mosses, lichens, and orchid. Afternoon free, we can have a visit of Ranomafana village or go to the swimming pool. Night at the same hotel
DAY 15: RANOMAFANA – ANTSIRABE :250 Km Departure to Ambositra after breakfast. Today we come across the highlands, characterised by its terraced rice fields beautifully arranged on the hills, its valleys decorated with wide vegetable plantation, its chilly climate and its Asian featured population. Arrival in Ambositra by noon. We visit some workshop for local handcraft mainly made from wood. Continuation to Antsirabe, that we reach in the afternoon. Antsirabe or "the place of salt ", an elegant city best known as the centre of beer, we can smell the Bewery as we enter the town. With its temperate climate, all fruits and vegetable which grow in cold climate are found in Antsirabe. Known as a city of handcrafts, we will visit some ateliers, like "miniature of bike, old cars of 2 CV, then the zebu horn workshop where we can see the transformation of Zebus horn into decoration.
DAY 16: ANTSIRABE – TANA – ANDASIBE: 285 km In the morning, short city tours of Antsirabe before we head on to Tana, the end of National Road 7. From here we take the National road 2 and we head on eastwards to Andasibe, through the green landscape and luxuriant vegetation of the east. This second step brings us to the humid part of the country with many primary forests and lakes. Along the way we'll see Merina village on the hill, Rocky Mountains. We stop in Moramanga for a short visit of the local market. We'll reach Andasibe at the end of the afternoon. Settlement in hotel and overnight FEON'NY ALA on B&B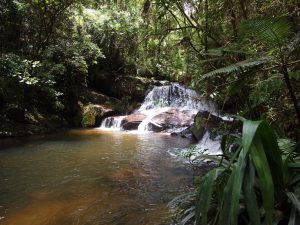 DAY 17: ANDASIBE SPECIAL RESERVE Situated on the east, rainy and humid part of the country, at 135 from Tana and 25 km from Moramanga, Andasibe is the nearest and easiest National Park to visit from the capital. This 810 ha reserve is a very special one with a high rate of endemicity as far as fauna and flora are concerned. It contains a wide variety of orchids, canopy, endemic animals like chameleons, tenrecs, and many birds. The highlight is without any doubt to observe the Indri Indri, the largest lemurs and known for its spectacular whooping calls. 9 species of lemurs, 10 species of tenrecs, 3 carnivores and 5 rodents, 109 birds have been recorded among them is the blue coua, coral-billed nuthatch vanga, they can be easily seen in the small stream and river around the park. 28 reptiles species have been recorded; among them is the tiniest one which measures only 5 cm and the largest one which measures 60 cm. Of special note is the 2 species of stump-tailed chameleon " brookesia thieli" and "Brookesia theriezeni" both of them are only seen in the area. The reserve is also very rich on amphibians, and claims a world record for frog diversity, 24 species have been recorded, the most noteworthy frog is the tiny golden mantella which is only found in the area. Spiders and insects are abundant.. Overnight in the same hotel
Day 18: ANDASIBE – TANA 135Km – 4Hours – PARIS (International flight) Breakfast at hotel, then drive back to Tana, Stop and visit "Pyeraras Reptile farm" to see farmed chameleons and other species of reptiles. During a walk inside the forest, we can spot 2 species of lemurs: the sifaka "coquereli" and the brown lemurs "fulvus". Arrival in Tana, Day use at ICHOTEL then transfer to the airport for the international flight back home.
END OF SERVICE
NOT INCLUDED • Meals, drinks and personal expenses, insurance • All Optional excursions not mentioned in the program
Recommended Posts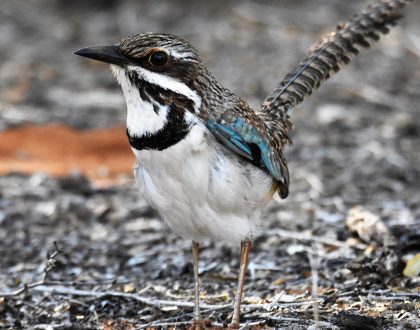 August 6, 2018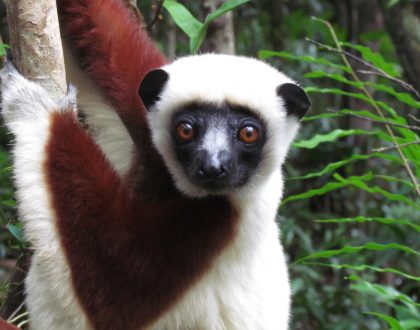 July 17, 2018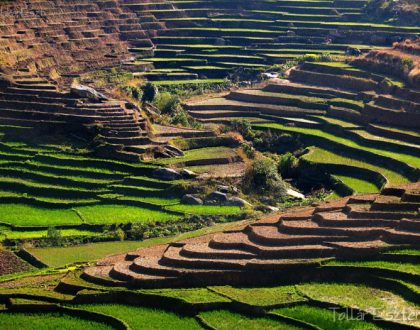 May 28, 2018